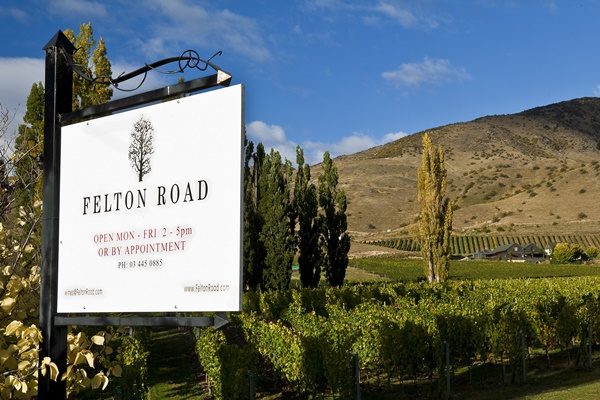 It has been a while since I last mentioned Central Otago, and so it seems fitting that I returned to the topic of this region with a remarkable winery, Felton Road. In my recent meeting with Blair Walter, the winemaker was more than generous by detailing differences in the vineyard plots and on the choice of Pinot Noir.
The Felton Road winery was originally established in 1991 by Nigel Greening, and carefully crafted by Blair Walter since 1996, with its inaugural appearance in 1997. Long have I heard of their Block 5 Pinot Noir and was told it was one of the impossible list to get on. Sure enough, this brand has already attained a cult wine status in a short span of two decades.
The vineyards namely The Elms, Macmuir, Calvert and Cornish Point are all planted along the south bank of the Kawarau River. Historically, the river provided opportunities for gold miners as they tried to dish gold bits from the river bed. More recently, this river was featured in Lord of The Rings as Argonath, the location with giant pillars carved with the likeliness of ancient kings and marked the realm of Gondor.
I had little conversations with Blair Walter due to the seating arrangement. But one cannot missed the enthusiasm he has for life when he started mentioning his hobby outside of making fine wines. Blair is a Cessna pilot, and also a Messerschmitt enthusiast, who often spends his weekend burning up avionics fuel and depleting the carbon balance he had reduced in the vineyard.
Felton Road is an organic and biodynamic wine producer.
According to the geology study Blair sent me, the soil of Bannockburn was formed from the extended weathering and erosion of schist rich mountain ranges. The resulting wind-blown clay and fine loam deposited in the lower altitude.
Calcium, that would have otherwise be washed out by rain and moisture, was well preserved under the semi-arid climate. This mineral element eventually reacted with the carbon dioxide and results in a high amount of limestone content that wasn't contributed by deposits of fossilized marine creatures.
Combining the clay over limestone, and Bannockburn has a similar soil order compared to Burgundy, which naturally explains why Pinot Noir adapts exceptionally well, and highly prized.
But of course this is not one soil fits all situation. The vineyards of Felton Road are more diverse than that, which means planting suitable vines requires trials over long duration. Planting Pinot Noir is a tricky business. This is a variety that can be sub-divided into different clones which can suit different types of soil and give different results.
Without going too technical, the Block 5 vineyard is planted to three clones, while the larger Block 3 holds four clones that are planted in an assortment fashion; almost alternating every other rows. Such viticulture decision reflects the complexity of its terrain.
Of the two great Pinot Noir produced, only limited number of the 2014 Block 3 is available in Singapore. A remarkably well textured wine with no lack of grandeur in its fruit profile, it comes with a slightly premium price tag.
And for those who seeks better value, then the 2014 Cornish Point Pinot Noir will give almost equal level of pleasure. Light earthy note over red fruits aromas, and with fruit cake flavours. Plushy with silky tannins but retains a harmonious balance.
If anyone needs a surprise, try their Bannockburn Riesling. It has a high level of residual sugar, that gets superbly masqueraded by the unbelievably strong acidity.