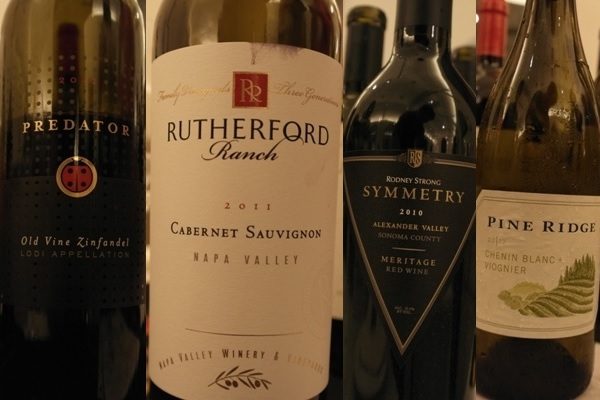 I know the day will come when an elderly looking man presents his range of everyday drinking wines made from a lesser-known region. Bottles of delicious California's Central Valley wines, a sincere smile. And after several glasses, I am a happy man.
Earlier this week, the Wine Institute of California brought a whirlwind of diversity into Singapore, showcasing the evolving wine styles and abundant offerings. A huge turnout in the evening with close to twenty producers and average of five bottles each, I spent the evening weaving through the crowd with a mixed bag of familiarity and curiosity. Wines were seen outside their comfort zones in Napa or Sonoma. That was a good start.
Last week, there was a wave of American Viticultural Area (AVA) shuffling. New AVAs were proposed and an existing AVA was to be sub-divided. Today's news reported a new AVA, Moon Mountain, had been approved by the United States Alcohol and Tobacco Tax and Trade Bureau (TTB). (I thought the Federal Government remained shut down?)
What this spells is the amount of attention paid to land uniqueness in new world America. While it wasn't indicative in the event, there's certain degree of truth. Several Cabernet were labelled Alexander Valley, and Pinot under Russian River Valley instead of Sonoma. Wine styles geared towards both pure-play (mainstream) and experimental blends. Days of dull fat Californian Merlot are behind us, with the secluded Cabernet Franc taking up a more prominent role of improving texture. Similarly, I don't remember seeing once frequently mentioned Carneros more times than the number of fingers on my hands.
In the greater area of California, Zinfandel shared as much limelight as Cabernet. In Central Valley where grapes usually ended up on dinner table more than in wineries, the 2012 Predator Old Vine Zinfandel proved why Lodi is an exception. A complex set of smoky-meatiness and floral perfume dominated the nose. Mouth feel was soft and silky, juicy red fruits with a slight touch of sweetness from the alcohol.
Coming from the same producer, the 2011 Rutherford Ranch Napa Cabernet Sauvignon illustrated a classy expression of Rutherford. Despite being a difficult vintage, the signature 'Rutherford dust' showed through with a sufficiently ripen nose. Firm tannins from both Cabernet and oak, along with a good juicy weight contributed by a dash of Merlot and a splash of Zinfandel. Considered a very restrained style of Napa Cabernet.
A trade name coined in 1988, twelve years after the 1976 Judgement of Paris, "Meritage" was used to name these trendy blends made from noble grapes of Bordeaux. The solemnly designed label of 2010 Rodney Strong Symmetry had 75 per cent Cabernet Sauvignon and qualified to be labelled as a varietal wine, but it chose to be "Meritage" instead. Nice roasted oak aroma wrapped around the lightly stalkish notes of Cabernet and rich cassis. The rich full palate was considerably grippy and had a slightly higher alcohol sensation on the finish. This wine had 15.5 per cent alcohol.
The last unique offering was a white blend of Chenin blanc and Viognier. A wine that would not be crafted in France simply because the distance between their growing regions are too far apart. The 2012 Pine Ridge Vineyard Chenin blanc + Viognier fused the characteristics of two grapes in a seamless fashion. Aromas of ripe melon, lemon peel with hint of sweet nuts. Palate was struck by lively crisp acidity, but quickly comforted by the plush roundness.
The list represented only tip of an iceberg. With more than a hundred appellations in California, there are hidden gems waiting to be unearthed. But it won't be easy when you are half a world away.