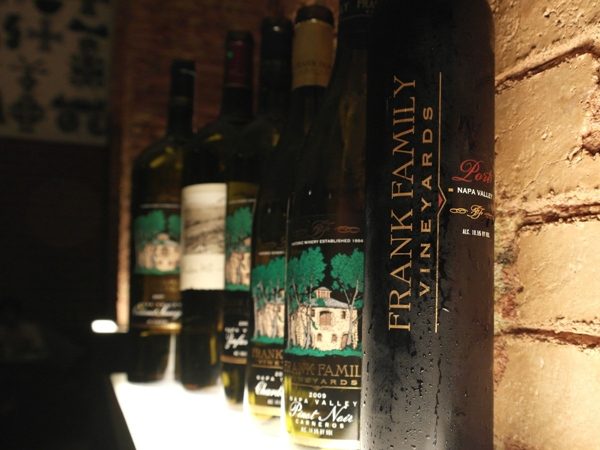 One of the toughest pretence in life is to love without feeling, to share without giving and to speak without thinking. Well, perhaps not so difficult for the last one. Sales people often speak great things about wines without sharing the essence and spirit that it embodies. The words spoken often were like post-dinner bottles, empty. But over the dinner I had with Edward Skupien, everything was direct, forthcoming and clear. Very similar to the wines they crafted.
Rich Frank, founder of Frank Family Vineyards, is a big who's who in the film industry. Formerly chairman of Walt Disney Television and Telecommunications and headed Disney's syndication arm Buena Vista. He was then President of Walt Disney Studios for nearly a decade in the 1980s and oversaw the development of The Disney Channel. The hectic lifestyle he led prevented him from travelling far for vacation, but he soon learnt the short-haul flight from Los Angeles to Napa was more than what he needed.
Rich bought his Rutherford residence in 1990. 1992 saw him took over the historic Larkmead Winery (third oldest in Napa, since 1884) after the bank had foreclosed Kornell Champagne Cellars. Then owner, the 81 years old Hanns Kornell, was known for his effort in generating interest on sparkling wines. Hanns was among the few who chose to make sparkling wines using traditional method. Mr Kornell passed away two years later.
Frank Family Vineyards has one aim, and that is to make the best wines they could for family and friends. While I did not had the chance to meet Rich Frank, he was well-represented by winery vice president, Edward. I had the good fortune to sit beside this man with a welcoming personality. A modest and humble man, he made a point to keep his speeches concise without overused jargon that can present wine dinner like chemistry lesson. Certainly, unlike me.
Ed shared with me the philosophy of Frank Family Vineyards. Focusing on sharing finer things with loved ones, making good but simple wines for enjoyment. And of course it was no surprise when I learnt that Frank Family Vineyards is a common household name in America's west coast. The family now owns around 380 acres of land in various parts of Napa Valley, offering a variety of wines made from Chardonnay, Cabernet Sauvignon, Pinot noir and Zinfandel. If you only have budget for one wine, the Chardonnay is a must-have.
Chardonnay 2010
An astonishingly refined America Chardonnay kept in French oak barrels! Sweet ripe fruits such as mango and pineapples with a neat layer of light wooden spices. The seemingly full and dense body could actually danced lively on the palate with acidity. A strong contrast to heavyweight, fat and buttery Chardonnay.
Pinot Noir 2009
The initial stalk-ish nose reminded me of possible whole bunch fermentation or under-ripeness. But the palate showed a firm structure and less-harsh-than-expected tannins. However it did seem to be a little high on the extraction. After an hour of sitting  in the glass, the second observation was of delightful red fruit perfume with tannins firmly remained along with a good dose of acid.
Zinfandel 2008
The serving temperature was definitely higher than desirable, and the result was nose numbing alcohol. But beyond that layer of alcohol obscurity was a subtle chocolate note beneath smoky and ripe juicy berries note. Soft fine tannins and acid accentuated by the high but, fortunately, not overwhelming alcohol.
Cabernet Sauvignon 2007, magnum bottle
Hint of light smoky burnt leaves with semi-dried plums on the mid palate. Balance finishing lasted for a while with tannins surfaced slowly on mid palate and coated gently. Took a long time to express itself.
Winston Hill 2007, magnum bottle
Black fruits and perhaps slight hint of pencil shaving. This was the most restraint wine of the evening. Bright acid on back palate and very firm texture across the mouth. While drinkable, it was not integrated and certainly not ready after four hours of aeration. Perhaps it requires another four years of cellaring. This wine has potential.
The wines are distributed by Water & Wine Singapore Pte Ltd. Thanks to Jarvis Communication from California for the invite.