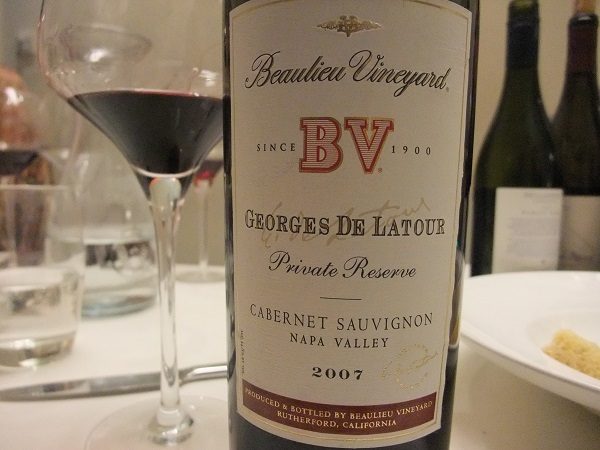 In an earlier post on my trip to Napa Valley, I wrote "If you ask almost anyone to name a source region for America's wines, there is a 90 per cent chance someone will quickly respond with Napa Valley." Similarly, if you asked for the red wine of America there's an equally high chance of hearing Cabernet Sauvignon. This is how our brains are wired to associate American wines with Napa, Napa with Cabernet. Thus, transitively American wines are commonly associated with? Yes, Cabernet Sauvignon.
Most of the common wine varieties growing on America soil today are not indigenous to begin with. Like the farmers who grew them, the vine cuttings migrated along with hoards of European migrants. Seeking a new life in the New World while trying to keep to their old trade. But there were risks unknown to these newcomers. In the movie Gangs of New York, the mid-nineteenth century European immigrants ran into difficulties of being accepted by native gangs. For the vines, it was the phylloxera louse.
Eventually time saw the resolution of societal differences, and the New World promised greater freedom with agriculture. But this too ended in 1920 when rural Protestants successfully lobbied for the "18th Amendment To the Constitution" and drew in the dry age known as Prohibition. Damn those moral crusaders, few vineyards survived years of alcohol-drought, which lasted till 1933. For most of those who did, they were reduced to table-grapes farmers. There were also others who survived by making wines for religious rites. It was not until the mid 1960s, more than three decades after prohibition, did America saw a new vineyard. And in 1976 the "Judgement of Paris".
Today, wine production in the United States can be found in all 50 states. Based on numbers from 2009, California wines contributed close to 90 per cent with New York and Washington slightly more than three per cent each. The other states produced little and were less than one per cent each. From the international market, perception of quality wines remains on the Pacific coast of California, Oregon and Washington. Fortunately a local organisation, Drink Local Wine, is actively promoting the wines from the remaining 47 states. Perhaps, one day we will get to see wines of Tennessee or Hawaii showing up on international radar.
Although the United States ranked as the fourth biggest wine-producing country, we see little of their presence in Singapore market. Exchange rates, cost of insurance and freight time, these trade factors add up and result in higher retail prices that are unattractive for consumers. Going through the online wine lists of 1855 The Bottle Shop, The Straits Wine Company, ewineasia.com and Bottles & Bottles, the American wines I saw are either selling at an average of S$80 – S$90 or hardly available.
With its rare market availability, I made a mental note to buy a bottle that can represent the America wine industry. So I bought a Cabernet Sauvignon. But at our casual evening for American wines it turned out everyone was more keen to go wayward.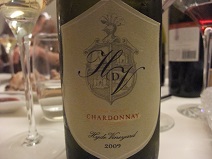 Started the evening with our only white, 2009 Hyde de Villaine Chardonnay from Carneros. Oak vanilla aroma encapsulated the light tropical and pear notes, this wine presented itself on the fruity end of the Chardonnay aroma spectrum. Creamy palate with medium acidity supported the luscious weighty sensation. Good drinking now and even some years after.
Dived quickly into the domain of reds, we had 2007 Au Bon Climat "Isabelle" Pinot Noir. Also known as ABC, Au Bon Climat wines are typically vineyard-specific. "Isabelle" is the only exception, blended from several vineyards with the bulk from Santa Maria. This Central Valley wine exhibited a style akin to Burgundian. The aromas were shy and tannins fine. In conclusion this was not showing its best.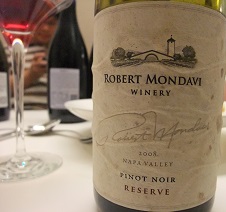 Second red wine was a 2008 Carneros Pinot Noir marketed under the brand Wine Spots. Raisin notes and cooked fruits, first visual impression of dark orange and brownish hue was already a total letdown. Otherwise palate was balanced with smooth tannins and medium acidity.
Third red wine was, another Pinot Noir, a 2008 Robert Mondavi Reserve. Certainly the boldest of the Pinot, the initial red fruit aromas unwrapped to reveal the underlying dark fruit core. Good tannins texture but acid was rather out of the big picture. A warm finish with its 15% alcohol. Seriously, a Pinot Noir this big?
Last red wine was my 2007 Beaulieu Vineyard Georges de Latour Private Reserve from Rutherford. A deep inky core with little difference at the hue. Rich plums notes accompanied by light hints of stalk and peppers. Intense spiciness, firm tannins and brilliant acid. A beautiful young wine with potential for another decade.
I bought the wine and I passed the judgement myself, it was the best wine for the night. Shoot me.