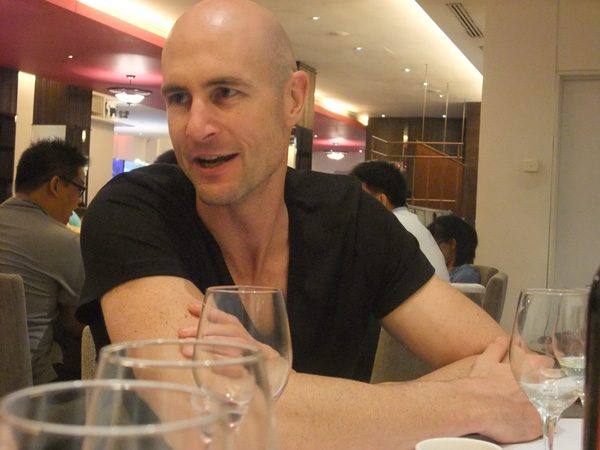 David Bowley, the CEO of Vinteloper Wines from South Australia, carries an air of suaveness with his tall simplistic bald look. His urban winery project earlier this year stirred up some buzz for city dwellers, who can experience a taste of real wine-making, without the glamour. And by CEO, he actually meant Chief Everything Officer. This is a one man winery, from making to marketing.
While working for a cork importer, David's curiosity from younger days set the stage for a greater scheme of things to come.  He learned all things wine production related in his time as one of many wine-makers in an Australian winery of commercial size, followed by a stint with Australia's wine export body. Eventually, David was ready for a stage of his own. Since launching his first vintage in 2009, this young and exciting wine-maker has placed great emphasis on creating wines that express their origin, regardless of vintage variation.
Expending all his profits from each vintage back into the business, David is aiming for year-on-year growth in production output. Considering the price of Australia wines in the world, this will need lots of determination and focus. As a wine-making adage goes: "the way to make a small fortune from wine-making, is to start with a big fortune."
There's one thing in common among wine lovers, and that's food. We made a reservation at Spring Court Restaurant in Singapore's Chinatown. Serving Singapore authentic Chinese cuisine for close to 90 years, the restaurant oozes cultural heritage and warm hospitality. Johnson, the Restaurant Manager, was very kind to offer a nominal corkage fee for our wines – something you get only by being a returning customer, and hosting wine dinners there!
David brought a bottle of his Watervale Riesling 2010, with which we had an unplanned face-off against the Grosset Polish Hill Riesling 2010 that Raymond brought. The ideal way to have a comparison of styles. The Vinteloper Watervale Riesling is lighter in colour and intensity; on the palate, its uplifting sensation differentiates from the intensely rich Grosset. This demonstrates to us that differences in wine-making style can be as pronounced as the differences between regions.
The dinner continued on, and we proceeded to a Spanish Tempranillo – Bodegas Mauro "Vendimia Seleccionada" 2002 – intensely fruity despite the age. More impressionable, though, was the Il Poggione Brunello 2006 brought by our favourite Danish, Martin Roemer. An elegant transformative wine that whirled around the glass and carries its fine texture across the palate. Suitable both for drinking now or further ageing. The Brunello was unanimously the wine of the night.
All good things must come to an end as the night creeped on, but Vinteloper's wines might be seeing a new beginning in Singapore soon.
Perhaps through Martin's Artisan Wine Singapore… or Raymond will find someone to do it!
---
Wai Xin is the original author of this article. This was first published on www.enjoywine.sg