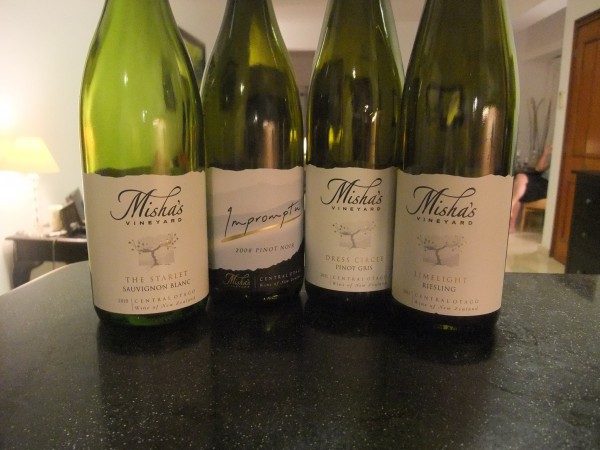 If you have not used or even heard of Twitter, you really should check it out. We are the #SgWine folks. Search #SgWine, #sgwine or any variant of the hashtag and you are likely to find shout outs by us. With Tai-Ran's appearance (based in the States) and generous Misha's Vineyard wine samples from Crystal Wine, Friday night was nothing less than brilliant.
Great evening doesn't happened with a finger snap . Thanks to a particular cab driver I was late for the wine collection from Crystal Wines. Called the kind people in the retail outlet five minutes before closing and politely asked for fifteen minutes extra-time. They agreed and saved me from a brutal execution for turning up with empty hands.
The unforgiving chaps would have thrown me off the balcony, into Singapore River.
Back to business, the wines. New Zealand wines are often represented by Pinot Noir and Sauvignon Blanc produced in regions like Marlborough or Martinborough. As such, most people have thought of NZ wines no further than the bays. Little have been seen or spoken about other regions, and much less, on Central Otago.
Central Otago, well, not quite central, is down south, in-land region on the south island of New Zealand (of the southern hemisphere if you haven't realised). It is part of the greater Otago region, any further from Otago and you might see penguins from south pole.
Probably the world's southern-most wine region, vines that thrive here are expected to be suitably cold-hardy and early ripening. Riesling, Pinot Noir, Pinot Gris call this place home. Cool enough, but this place is unlikely to be a vast region for wine making due to other geographical and climatic restriction.
Remember, lower quantity (usually) translates to, higher quality.
Misha's Vineyard, was built by, Misha (surprise!) and her husband Andy Wilkinson. Previously based in Singapore in the Information Technology field (same as me!), they have since moved back to materialise their passion for wine by making it themselves. Their vineyard is fairly new but producing quality at price range that can be highly receptive for the mass market. Visit their website to learn about their history and the interesting team behind the wines. Check out their receptionist too!
---
Misha recommended the sequence be Pinot Noir, Sauvignon Blanc, Pinot Gris  and Riesling.  A little unusual for red to come before white but I'm sure she has her rationale. So here we go…
Impromptu – Pinot Noir 2008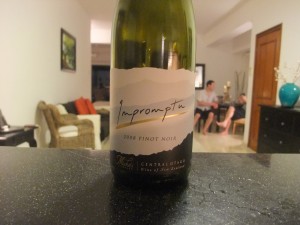 Impromptu was made from a young vines planted in 2005. On average, good quality are usually achieved from the sixth year onwards, i.e. the 2011 vintage. Most wine makers who grow their own vines are likely to sell the grapes to someone else for blending. However this young Pinot had achieved quality and ready for drinking now. Unlike those I have tasted from Marlborough, this was more subdued on the fruits but contained a tinge of meaty smokiness giving a savoury sense. Balanced with a medium amount of acid, it reminded me of another Pinot Noir from Australia's Mornington Peninsular. Like the pairing with soft cheeses. Had it a little warm, thus giving alcohol heat on the back.
The Starlet – Sauvignon Blanc 2010
Sauvignon Blanc from New Zealand are known to have grassy note, fresh and crisp-dry. Occasionally they do carry salty mineral notes. In general, NZ Sauvignon Blanc does not come across as a complex wine. The Starlet was surprisingly much intense, rich and heavy in texture. Aroma notes that I wasn't able to identify were listed as snow peas and hint of sandalwood spices. If you don't like Marlborough, give this a try.
P.S: This vintage has been cleaned off  from their cellar door (or Stage Door) . Get it from Crystal Wines while stock lasts.
Dress Circle – Pinot Gris 2011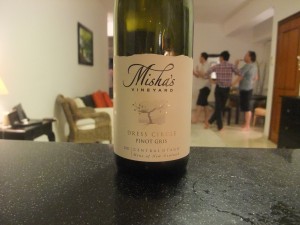 In my earlier post, I recommended Pinot Gris / Grigio for beating the seasonal heat. The style mentioned was cool, steely and light. Misha offered a much richer Pinot Gris with not just lime but with nutty and woody hints. With some residual sugar, this moved Dress Circle into the off-dry category. Chirpy!
Limelight – Riesling 2011
Alas, the Limelight 2011. I like fresh Riesling, but that's just being me. Fresh with some cool stone touch, vibrant citrus, suitably sweet but not pungent. Kerosene note always put me off, so fortunately this baby doesn't have that. Keeping some residual sugar of 25 grams per litre, this was a happy Riesling in the medium sweet category.
In conclusion – Misha's Vineyard wines are reasonably priced
If you are looking for something to sip with 'ooh' and 'ahh', these are unlikely to be what you like. The Pinot Noir is not a Burgundy, the Riesling is not Prädikatswein. They are simple, non pretentious wines for easy pairing and drinking. Prices range from S$40 to S$50, they are a good deal if you need something for dinner.
Wines were generously provided by Crystal Wines.
Lastly, the #SgWine boys!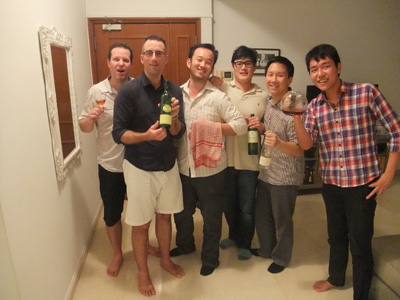 ---
Wai Xin is the original author of this article. This was first published on www.enjoywine.sg